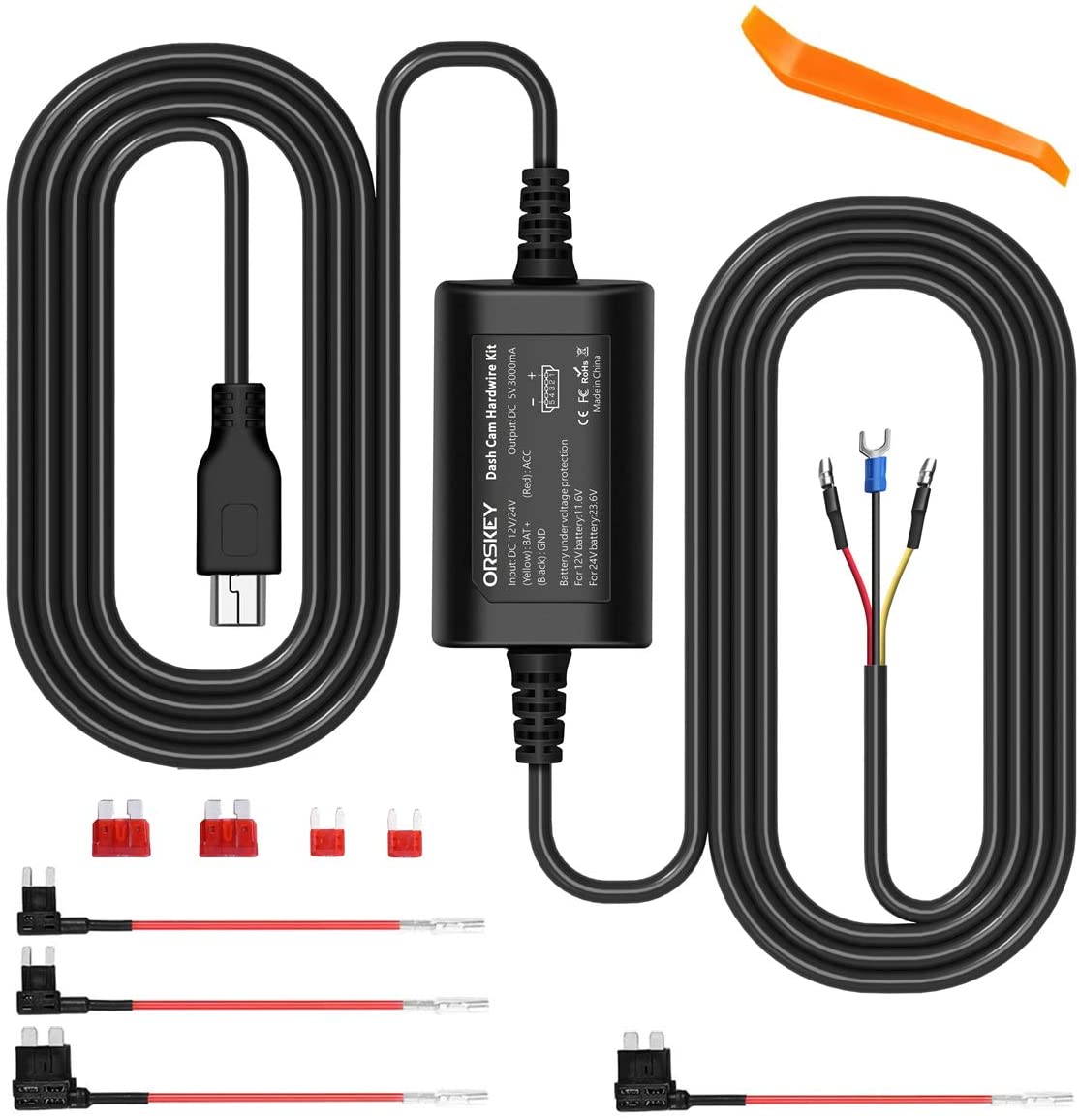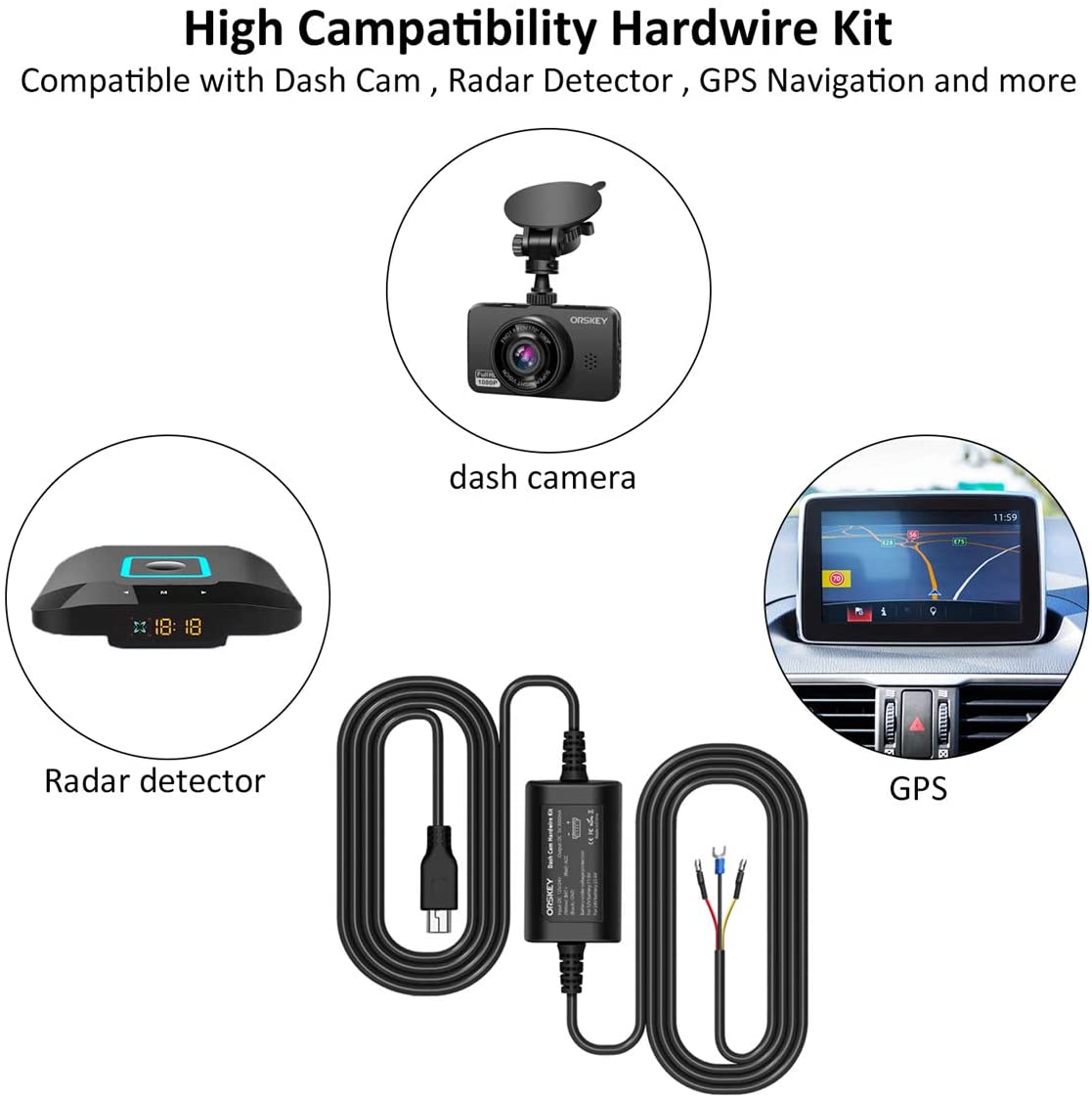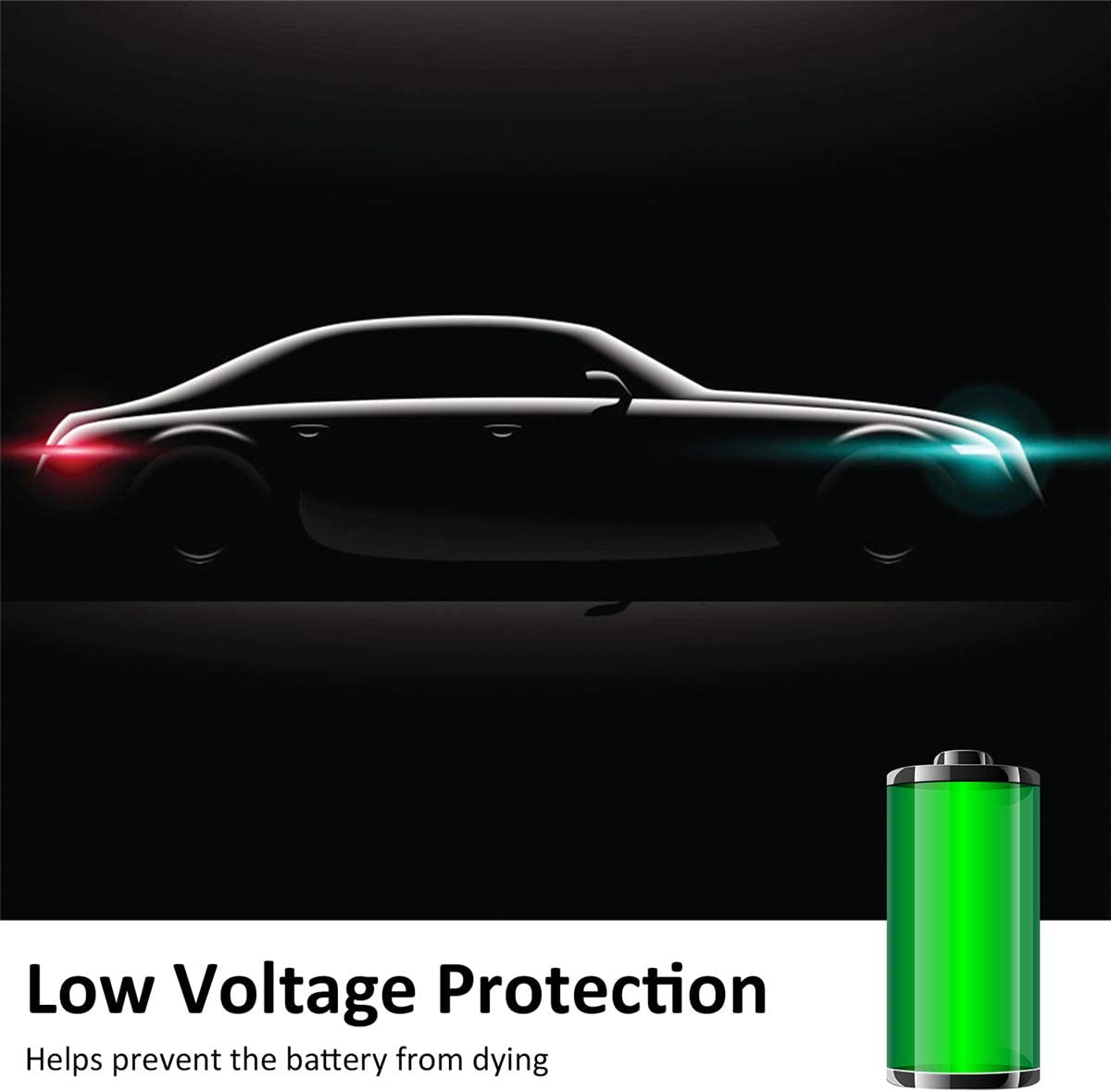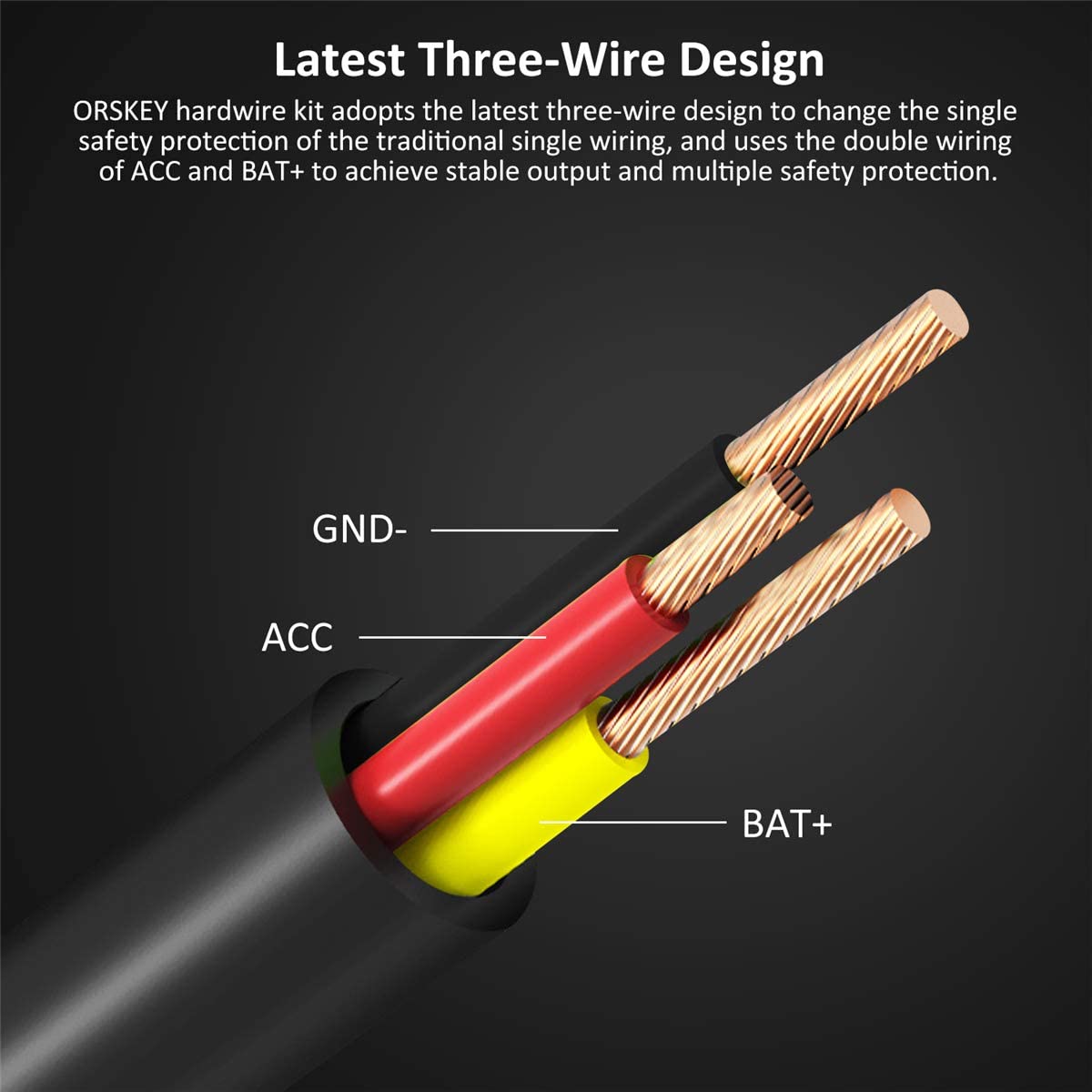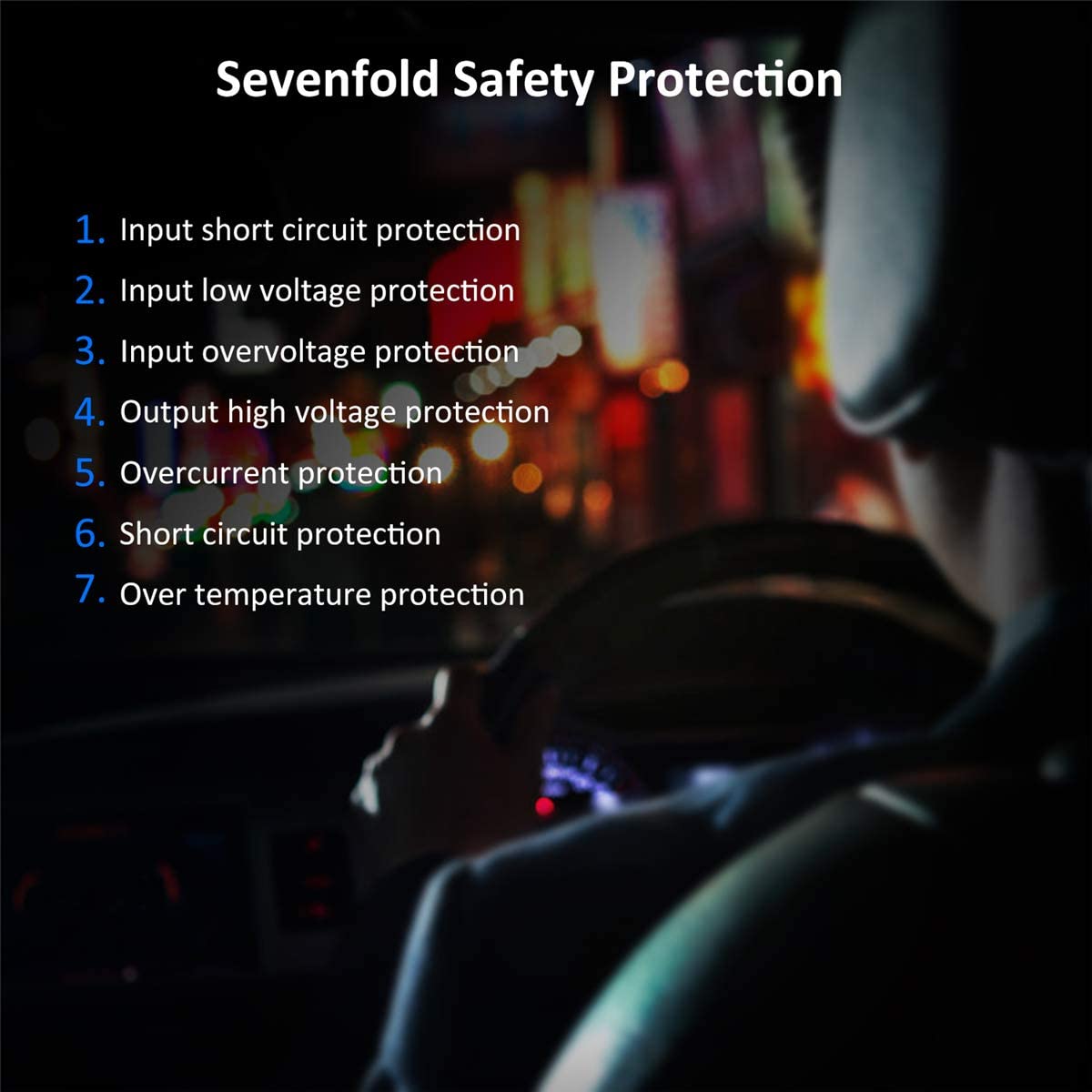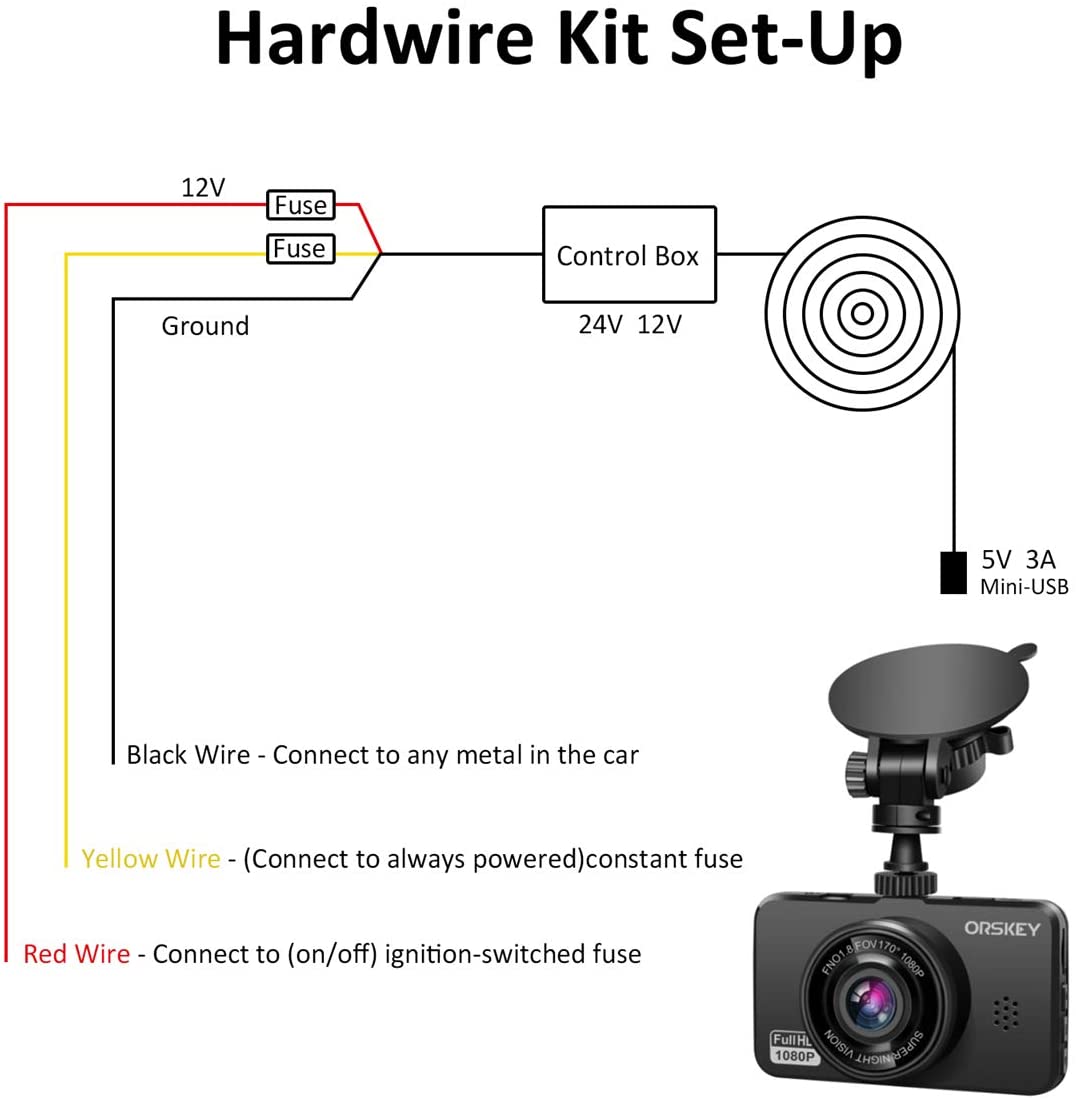 ORSKEY S2 Dash Cam Hardwire Kit Mini USB 12V 24V to 5V Car Dash Camera Hard Wire Kit with Real Low Voltage and Sevenfold Safety Protection
Key Features
【Latest Three-Wire Design】ORSKEY hardwire kit adopts the latest three-wire design to change the single safety protection of the traditional single wiring and uses the double wiring of ACC and BAT+ to achieve stable output and multiple safety protection.
【High Compatibility】Compatible with almost all car mini USB devices, such as dash cams, GPS navigator and radar detector etc. It's suitable for most models with a voltage between 12-24V. Maximum output current supports up to 3A, and it is also suitable for any device with an output current less than 3A.
【Low Voltage Protection】With an intelligent low-voltage protection system, it will automatically shut off the power to the dashcam to prevent the battery from draining when the battery voltage drops to 11.6V or 23.6V .
【24 Hours Parking Surveillance and Anti-Interference】 It can supply Directly to the battery for constant 24hrs/7days power to protect against theft when your car is in the parking lot. With super anti-electromagnetic interference ability, it is not necessary to use the additional anti-interference magnetic ring.

 
Package Include
1 x ORSKEY Mini USB Dash Cam Hardwire Kit

2 x Mini ACS Add-A-Circuit Fuse Holder

2 x ATO ACU Add-A-Circuit Fuse Holder

1 x Installing Crowbar

1 x User Manual
Orskey Dashcam
CUSTOMER SERVICE: 24/7 chat support
RETURN POLICY: 30-day money-back guarantee
WARRANTY: 1-year warranty for all dash cams and 2 years for accessories
Confirmation:
Once customer place the order, a confirmation letter will send to the customer.And we will start to prepare your order immediately once the order is verified.
Processing:
All orders will be dealt with within 1-3 workding days.Orders will not be dispatched during weekends or holidays. 
Shipment:
Once the order is shipped out, customer will receive the tracking number of order shipping. It will take around 7-12 working days to be delivered via E-pack.
Affected by Covid-19, there will be some delay on the delivery.
Please note that, total delivery time= processing time+shipping time.
Shipping Cost:
Free shipping to all over the world.
Tax:
The price is tax included. Customers don't need to pay extra tax. 

Contact US:
Our customer service working hours:
Mon - Fri, 8:30am - 10:30pm
Sat - Sun, 9:30am - 9:30pm
E-mail:info@orskey.com


If you have any questions, please feel free to contact us, we will reply as soon as possible.
Once you have your cart ready to go, you can head over to the checkout page to continue with your purchase. You will be asked to fill in your shipping/invoice details.
We accept all major credit cards and Paypal. However, if you pay Paypal, you do not need to own a PayPal account. 
If you run into any problems during this procedure, send us an e-mail to info@orskey.com and we will get back to you as quickly as possible.