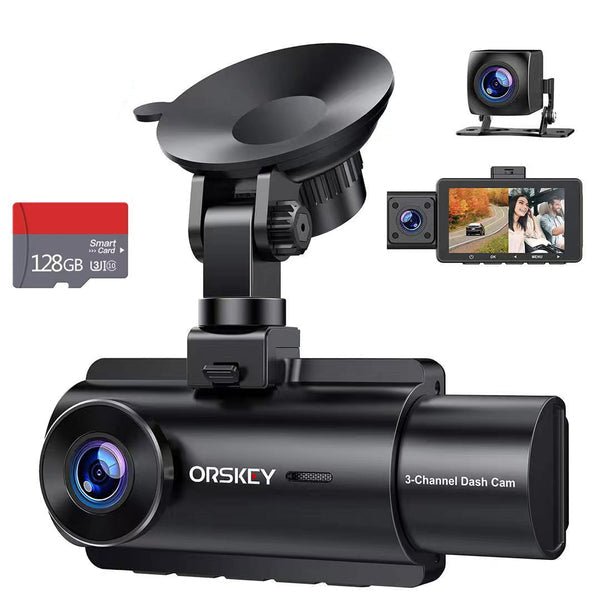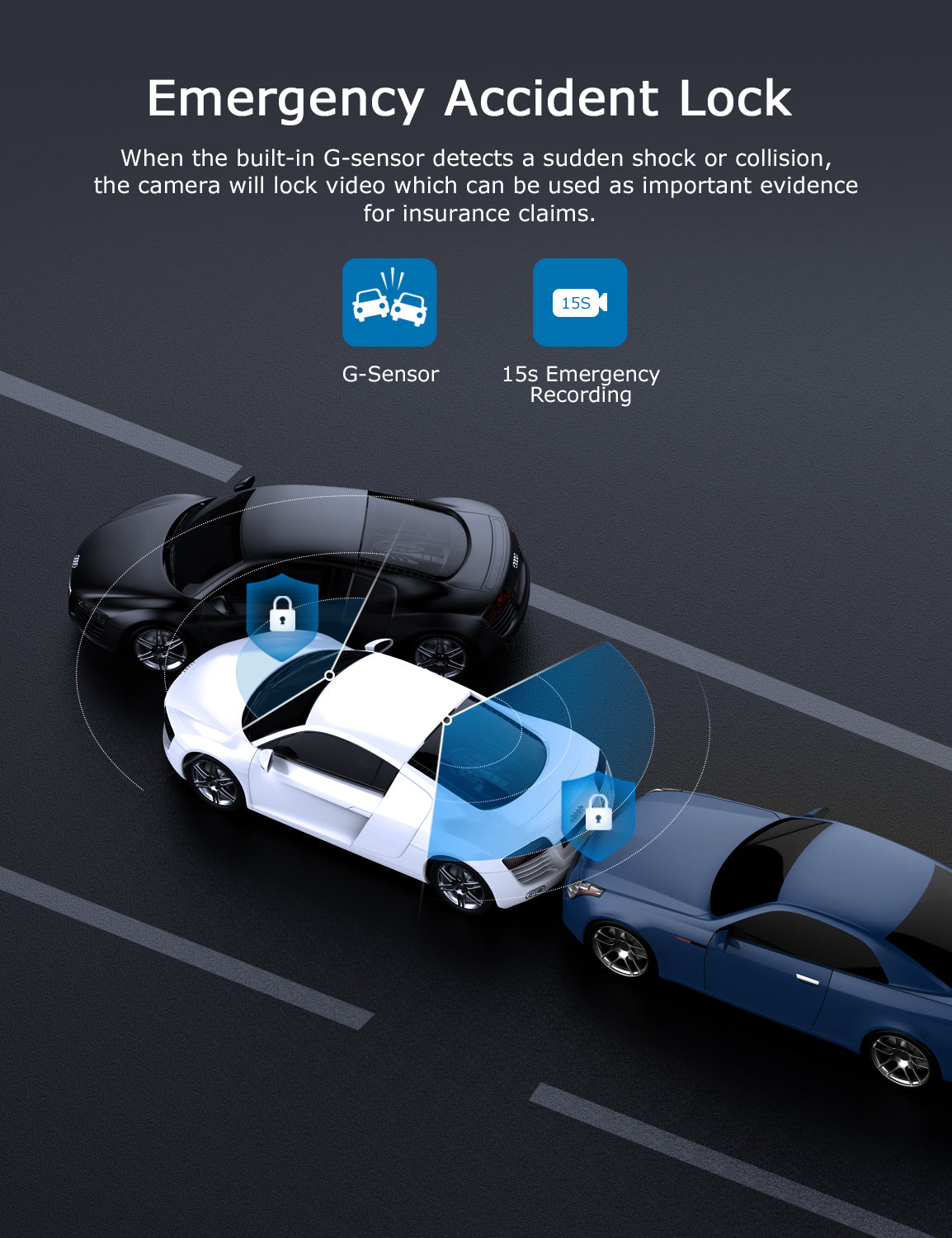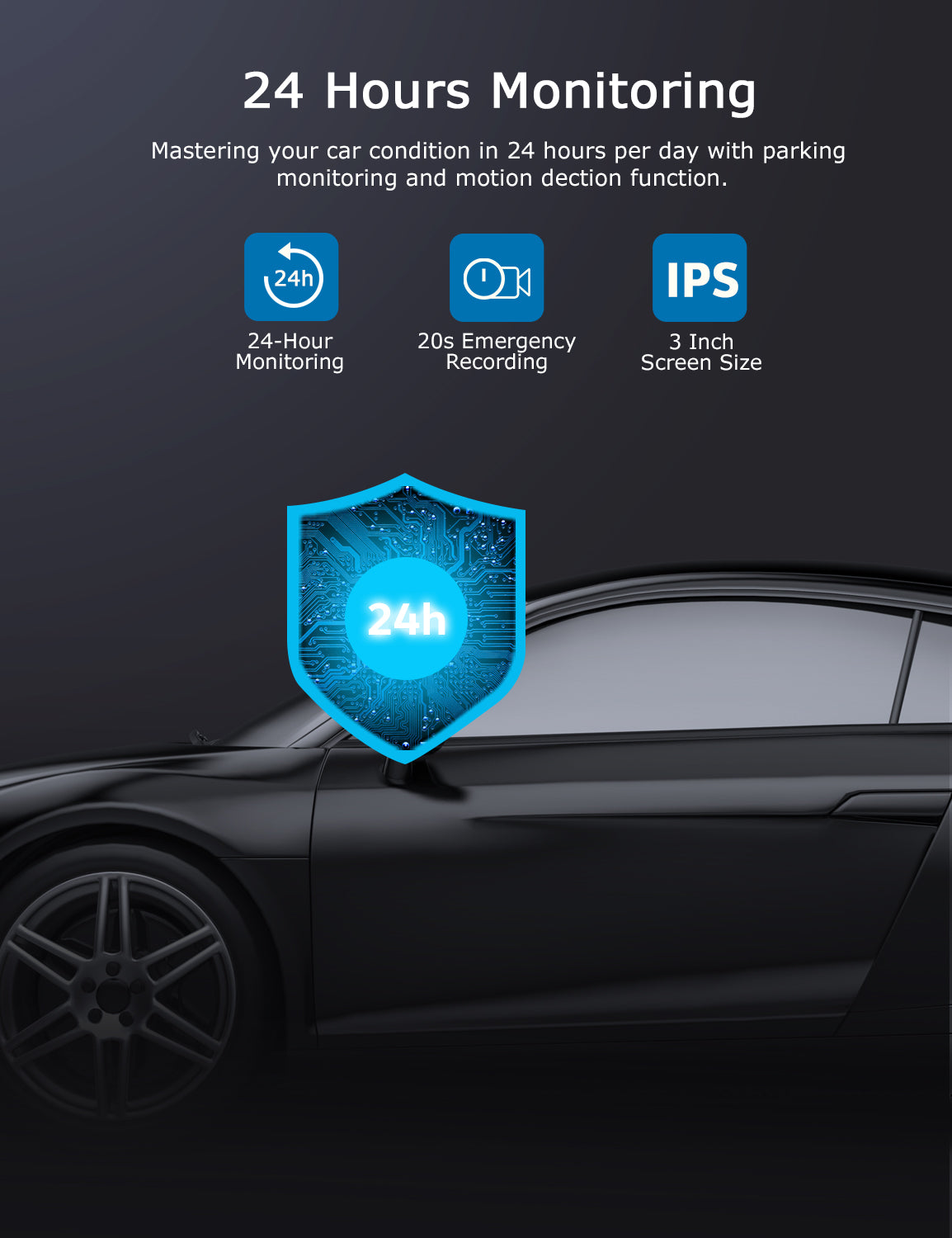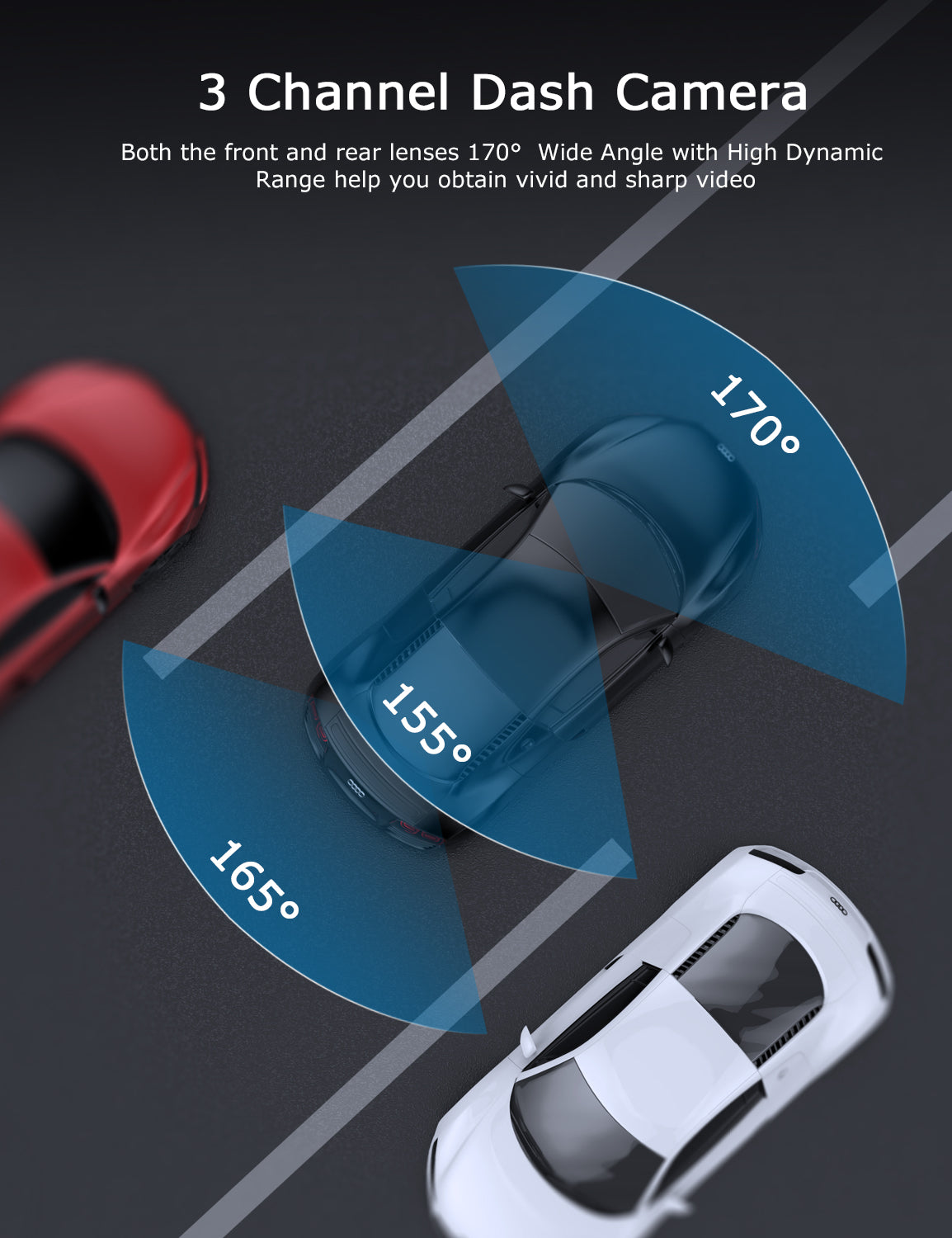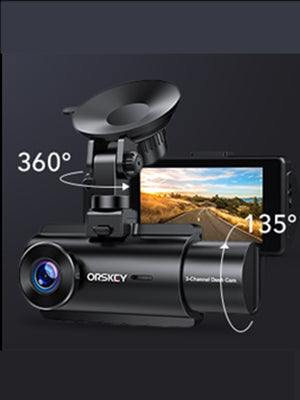 ORSKEY S960 3 Channel Dash Cam with 128GB Card,1080P+720P+720P Front Rear Inside Car Camera
Orders on the website to get a Free 32G SD card and an extension cable for all dashcams with a rear camera 
Key Features
 
3 Channel Dash Camera
S960 is a three-channel dashboard camera offering 170° front camera, 155° inside camera and 165° rear camera. Specially designed for taxis and Uber, it gives the best protection for both drivers and passengers. it can monitor your front, rear, and interior vehicles at the same time audio in 1080P+720P+720P.
Super Night Vision
All three channels of the dash camera utilize excellent high-performance sensors and HDR technology enhancements to enable the camera to operate in low-light conditions at night. With an aperture of F / 1.8, six glass lenses carefully trimming exposure.
Infrared Night Vision Dash camera
Four infrared LED lights facing the cabin capture the driver and passengers accurately, even when the cabin is entirely dark, perfect for the taxi, Uber, Rideshare, Lyft, and family drivers.
G-Sensor
When the dashboard camera's built-in G sensor detects a violent shake or collision, the current video is locked to ensure that critical footage is recorded and that the locked video is protected from being overwritten as evidence of an emergency.
Loop Recording
When storage becomes full; Loop Recording automatically overwrites the oldest file. When the G-sensor is engaged, the dashcam automatically locks the current footage to prevent it from being overwritten. SD cards with UHS speed class U1 Class 10 or higher are supported (128GB Included).
Additional Features
High Dynamic Range: 

High dynamic range technology compensates for light/dark areas and balances exposure, ensuring that no image is overexposed during the day and providing increased clarity at night. Allowing the dashcam to capture sufficient detail and compensating politely for the absence of headlights or other lighting required at night.

High-Temperature Resistance: 

The shell is made of an improved material resistant to high temperatures. It is capable of operating at elevated temperatures of up to 150°F. This is the greatest three-channel dash camera for hot weather. As a result, nothing is stopping you from discovering your next location.

Waterproof Rear Camera: 

A wide-angle, waterproof backup camera provides an unobstructed view of what's behind your vehicle.

Support Max 128GB Card(included): 

The dashcam accepts high-capacity micro SD memory cards up to 128GB (Included), providing additional video storage. It captures everything about the wonderful trip or scenery at any time and from any location. 
Specification
Are batteries included: No
Brand: ORSKEY
Screen size: 3 Inches
Video capture resolution: 1080p
Display type: LCD
Mounting type: Suction Mount
Battery cell composition: Polymer
Real angle of view: 170 Degrees
Package Include
1x ORSKEY Front and inside Dash Cam

1x ORSKEY Rear Camera with 20ft Extension Cable (6 

meters, may not be long enough to install the rear camera, but an extension cable is offered as a gift when purchasing this dash cam)

1x Car Charger

1x Mini USB Data Cable

1X 128GB SD Card

1x suction mount

1x User Manual
FAQ
Question 1: Which is the best hardwire kit for this?
Answer: You can purchase Orskey Hardwire kit here.
Question 2: Can this dash camera be connected with a USB cable or does it have to be in a cigarette port?
Answer: It has to be in a cigarette port.
Question 3: Is it possible to transfer footage to a mobile device?
Answer: Yes, you can use the USB cable to transfer footage to the PC, then it can transfer footage to your transfer footage.
Question 4: How long does it record after a collision when I'm not present in the vehicle?
Answer: It will record about 20 seconds.
Question 5: Is it possible to save critical footage although it isn't an accident?
Answer: It has the Emergency Accident Lock function. Locked video recordings will NOT be overwritten except by formatting the card. If it isn't an accident, you can choose the critical footage and lock it.
Easy Installation
The materials and design of the ORSKEY Dash Camera have been selected to ensure the camera is easy to mount and will stay in place while driving. The dash camera doesn't require any exhausting methods to install
Warm Tips:
Please adjust the sensitivity of G-sensor to Low or turn it off , the video file will be easily locked when your car brake, even if the loop recording function of the dash cam is turned on
To ensure seamless video recording, please kindly turn off the "Motion Detection" function while driving.
When the dash cam prompts 'SD card FULL', it will turn off automatically to remind you to format sd card and reset it. Please follow these steps to solve the issue.
1. Turn off G-sensor, motion detection and Parking mode
2. Please use the Lock function when you need to save a video without being overwritten
Support
Customer Service:

 

24/7 chat support
Return Policy:

 

30-day money-back guarantee
Warranty:

 

1-year warranty for all dash cams and 2 years for accessories
Confirmation:
Once customer place the order, a confirmation letter will send to the customer.And we will start to prepare your order immediately once the order is verified.
Processing:
All orders will be dealt with within 1-3 workding days.Orders will not be dispatched during weekends or holidays. 
Shipment:
Once the order is shipped out, customer will receive the tracking number of order shipping. It will take around 7-12 working days to be delivered via E-pack.
Affected by Covid-19, there will be some delay on the delivery.
Please note that, total delivery time= processing time+shipping time.
Shipping Cost:
Free shipping to all over the world.
Tax:
The price is tax included. Customers don't need to pay extra tax. 

Contact US:
Our customer service working hours:
Mon - Fri, 8:30am - 10:30pm
Sat - Sun, 9:30am - 9:30pm
E-mail:info@orskey.com


If you have any questions, please feel free to contact us, we will reply as soon as possible.
Once you have your cart ready to go, you can head over to the checkout page to continue with your purchase. You will be asked to fill in your shipping/invoice details.
We accept all major credit cards and Paypal. However, if you pay Paypal, you do not need to own a PayPal account. 
If you run into any problems during this procedure, send us an e-mail to info@orskey.com and we will get back to you as quickly as possible.